Message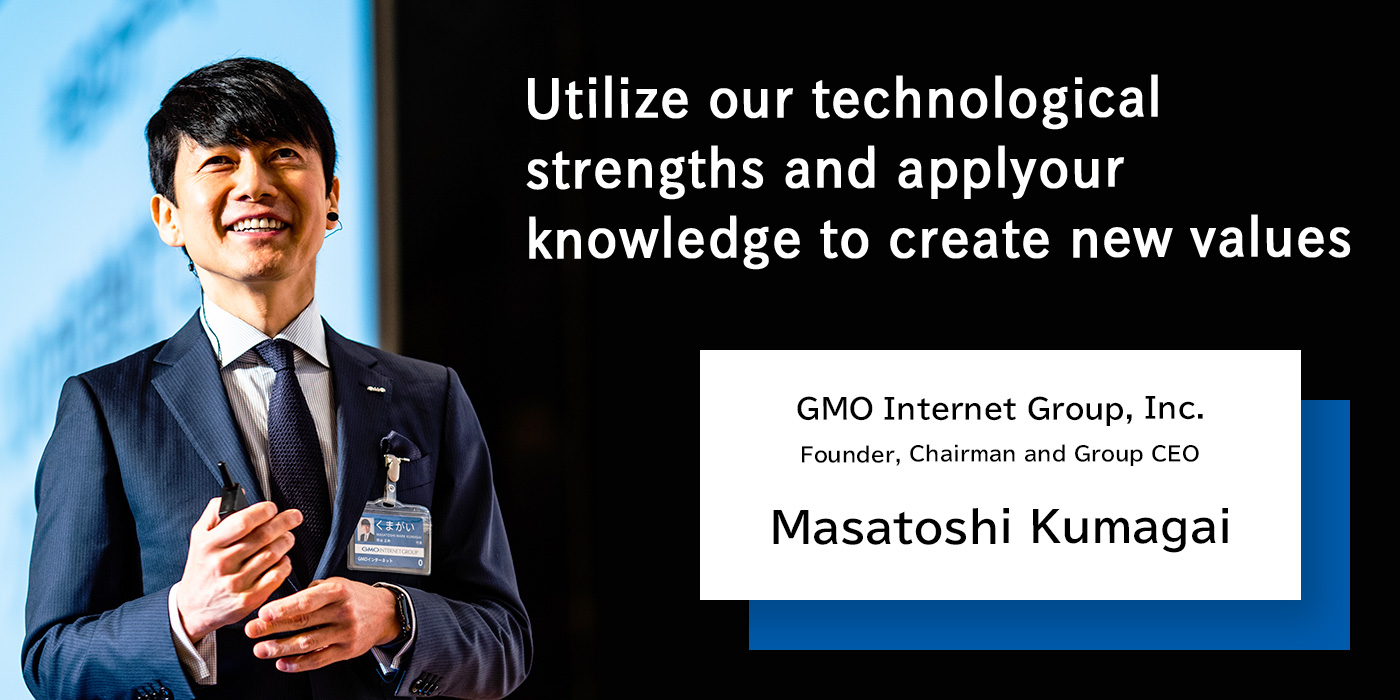 Internet for Everyone
"Internet for Everyone" is the corporate slogan we entered the industry with in 1995. Today, after having been listed on the first section of the Tokyo Stock Exchange, it continues to be our guiding sentiment. The growth of the Internet has added a new dimension to the economy, to business and to people's lifestyles. This has been a dramatic change that has in turn made the Internet more important than ever. It is no exaggeration to say that whether you are an individual or a corporation, how you use the Internet is critical in determining whether you succeed or fail.

It is our mission to continue cultivating the Internet. Through unique services and technology we develop the Internet solutions people want and provide the infrastructure essential to support an Internet that benefits society as a whole.
Record high earnings and Cryptoassets business becomes the third pillar of business
Consolidated business results for the First Quarter of 2021 reached new record highs, due to strong performance on Internet Infrastructure and Internet Finance segments and the recovery of Online Advertising & Media segment. Quarterly net sales, operating profit, ordinary profit, and net profit achieved a record high due to a significant increase in the revenue of the Cryptoassets business.

In the Internet Infrastructure segment, the Ecommerce Solutions and Payment continued to grow as online consumption has been on a trend. In the Internet Finance segment, the performance of FX and CFD has reliably increased and contributed to maintaining high-level performance, although it decreased in sales and profits compared to year over year basis. The Online Advertising & Media segment has recovered due to higher demands on the Market and continued development of proprietary products.
The Cryptoassets segment has much-increased profitability in the Mining business and trading volume strongly increased in the exchange business as well due to the rapid rise of bitcoin. The Cryptoassets business has become the third pillar of business behind Infrastructure and Finance in Q1.

In Q1, GMO Internet has put effort into taking a huge leap forward: eSignature business has launched smartphone application; stable-coin GYEN has been listed on the major US exchange BINANCE; and GMO Internet has entered the NFT business that will play important roles in the digital content distribution revolution. Please be expectant about the further development of the GMO Internet Group.
Sincerely
Masatoshi Kumagai
Group CEO
GMO Internet Group
As of 05/2021