Message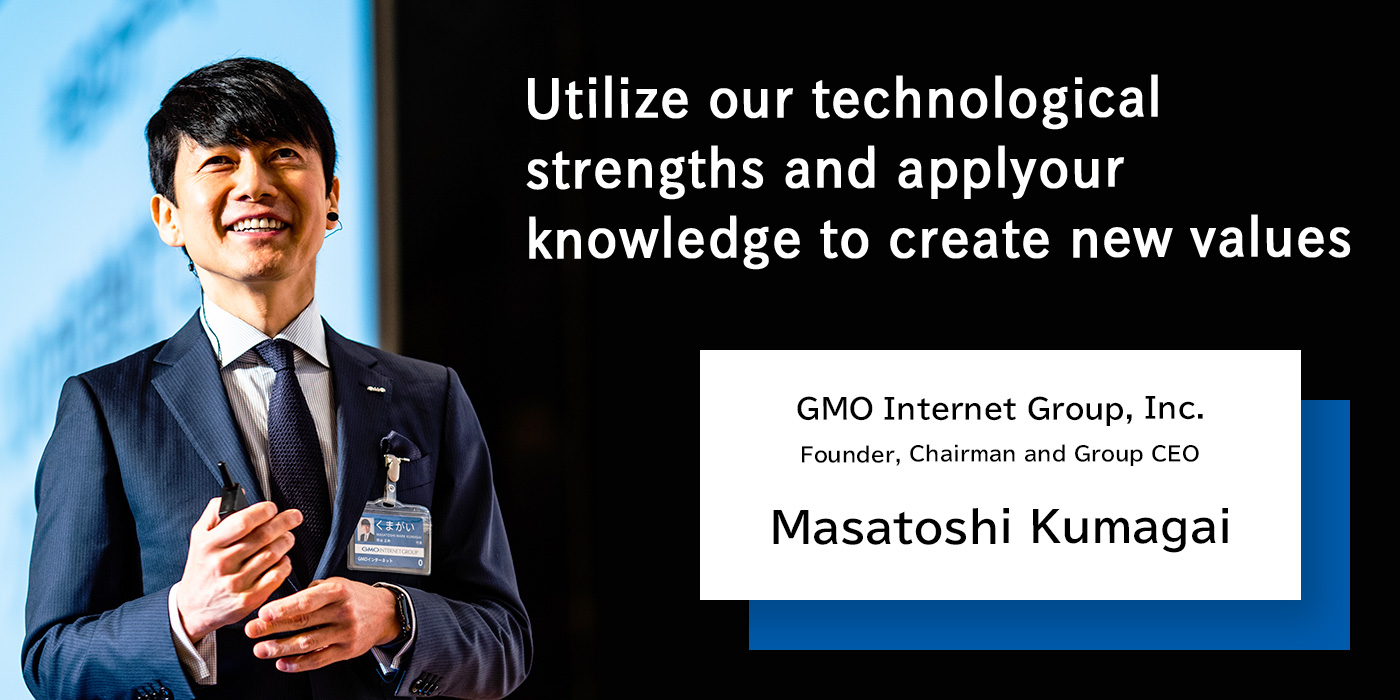 Internet for Everyone
"Internet for Everyone" is the corporate slogan we entered the industry with in 1995. Today, after having been listed on the first section of the Tokyo Stock Exchange, it continues to be our guiding sentiment. The growth of the Internet has added a new dimension to the economy, to business and to people's lifestyles. This has been a dramatic change that has in turn made the Internet more important than ever. It is no exaggeration to say that whether you are an individual or a corporation, how you use the Internet is critical in determining whether you succeed or fail.

It is our mission to continue cultivating the Internet. Through unique services and technology we develop the Internet solutions people want and provide the infrastructure essential to support an Internet that benefits society as a whole.
Internet Infrastructure business saw record high earnings
 For the consolidated business performance in Q1 FY2022, the adoption of the accounting standard for revenue recognition in the Internet Infrastructure and Online Advertising & Media segments resulted in a drop in revenue, operating profit, and ordinary profit compared to the same period last year. On the other hand, revenue increased by 4.7% YoY when the comparison was made using the former accounting method which indicated the intrinsic growth of the business.
 Looking at each segment, for the Internet Infrastructure business, in addition to the growth in public group companies such as payment and security, a group of unlisted companies where investment costs preceded profits until now contributed to overall performance. As for domain and hosting & cloud, products for the individuals performed favorably. The Online Advertising & Media segment contributed to the expansion of the company's performance as page views of in-house media grew and the research market was brisk, and by utilizing its own strengths. The Internet Finance business struggled to increase profitability due to the weak yen in the FX market but revenue expanded as a result of Gaika ex byGMO's joining the Group. CFD products performed well. The Cryptoassets business saw a decrease in net sales and operating profit as trading value's growth was sluggish compared to the same period last year, which saw a volatile market.
 Regarding the future strategy of the Internet Infrastructure business, cryptosecurity, cybersecurity, and brand security will be consolidated and GMO GlobalSign, GMO Cybersecurity by Ierae, and GMO BRAND SECURITY will build structures that provide a "Safe and Secure Internet for Everyone".

Please be expectant about the further development of the GMO Internet Group.
As of 5 /2022
Sincerely
Masatoshi Kumagai
Founder, Chairman and Group CEO