Masatoshi Kumagai talks about GMO Internet Group Strategy
As of 9/2023
CEO Masatoshi Kumagai talks about overview of the group's current position and outline of strategy going forward.
Overview of GMO Internet Group
The GMO Internet Group is a business group that is listed on the Prime Market of the Tokyo Stock Exchange, leading 106 consolidated subsidiaries, nine of which are listed companies (including GMO Internet Group, Inc.). The number of partners totaled 7,393 people.
Internet for Everyone has been our corporate slogan for 27 years, ever since we launched Internet business operations in 1995.
If you were to summarize in one sentence our business activities over the past 27 years you could say that we are the company who has most increased the number of websites in Japan, or the volume of information available over the Internet in Japan.
The following diagram illustrates our four business segments.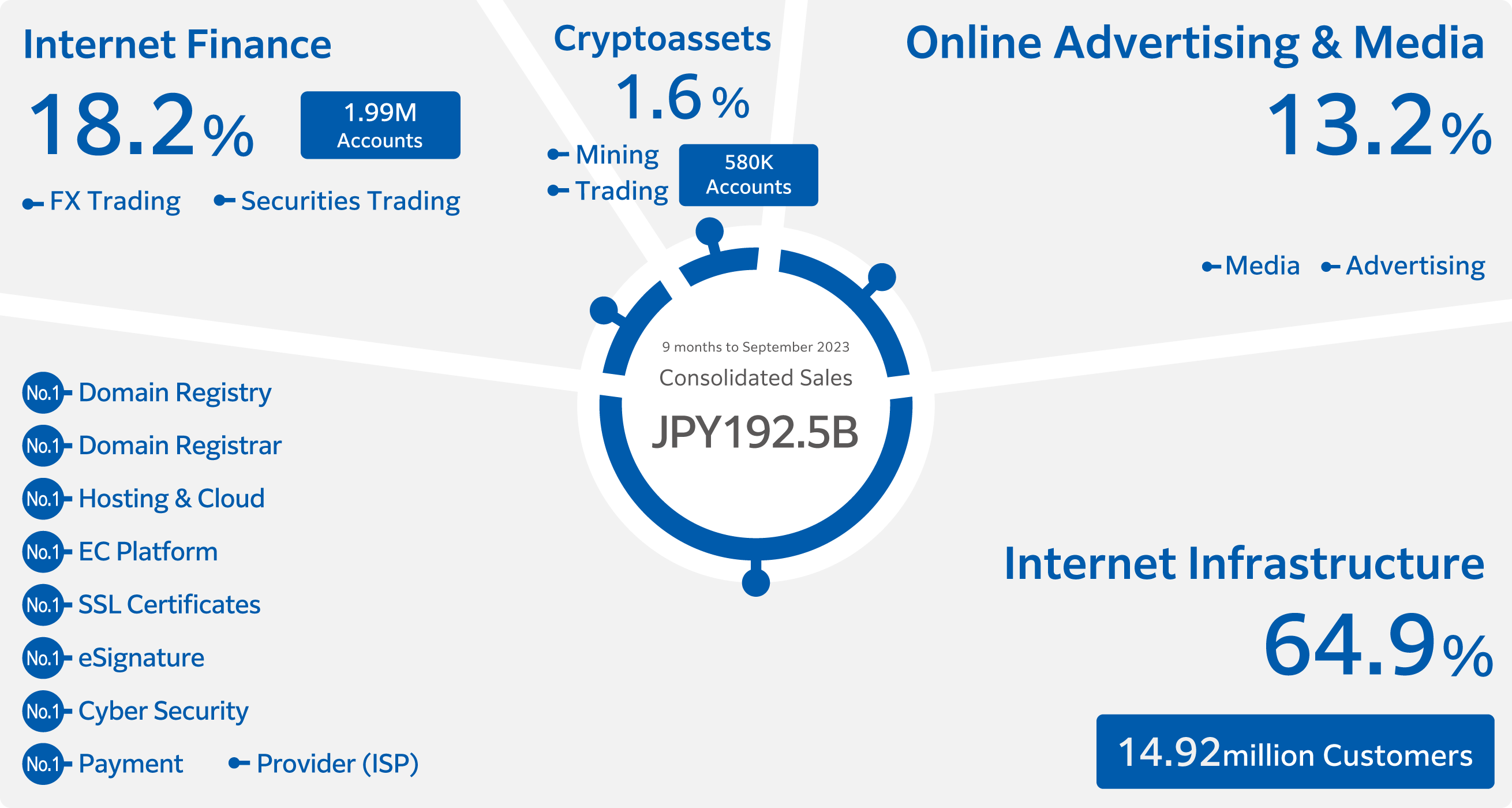 Our strength as the GMO Internet Group
We have four major strengths.
The technology that allow us to build almost all of our services from scratch.
The sales and marketing power right throughout the group to sell the products and services we develop.
A level of customer support recognized as an industry benchmark.
The research strength that allows us to identify trends early phase.
An analyst once said we were an organization made of steel. I would say that our greatest asset is the formidable organization that supports all of the above.
Internet Infrastructure
Strong technology and sales power: a business that will never disappear.
Businesses in Internet Infrastructure segment each hold top share in their respective markets in Japan. Profitability is increasing each year due to a solid customer base of over 10 million and the economies of scale.
This Internet Infrastructure segment has 5 business characteristics. For more details, please see my official website (www.kumagai.com ).
Domain registry and registrar businesses
Domain is a gateway to the Internet. Domain registry business wholesales domains, whereas domain registrar business retails domains. Together, their market share is over 80%.
Hosting & Cloud
Half of all servers in Japan are operated by GMO Internet Group. We are the leading hosting provider in Japan.
Ecommerce Solutions
We provide simple ecommerce site building tools. Unlike online shopping malls, we provide operational solutions for online stores. As a new type of ecommerce, our system will operate the C2C marketplace to respond to customer's various ecommerce needs.
Internet Security
In addition to operating our own Certificate Authority, we have a highly sophisticated technology that enables certificate management in a secure environment and offer a secure method to provide information online.
Payment
We provide payment processing services for the sale of products via the Internet. When users provide their credit card numbers to our customers we check the credit limit and process the payment. As a leading payment company in Japan in terms of the transaction volume and the amount of payment processing, we aim to grow ecommerce participation in Japan.
Provider
This service has been continuing for approximately 20 years since the company was established. It is an entrance to the Internet and is our origin.
The usage of SNS, video, and other rich contents has recently expanded, and people's contact time with the Internet through smartphone, tablet, and other devices has increased. The company will continue to meet the needs of the customers, offer plans perfect for them, and help them connect to the Internet.
Online Advertising & Media
There are two reasons why we are in the Internet media business.
1.

Synergy with Internet Infrastructure

Customers who start up businesses need advertising in order to increase sales. By providing search ranking services, SEO, SEM, SNS and other tools we achieve better customer satisfaction, capture more customers (cross sell) and achieve a higher profit ratio.
2.

Our Long term Plan (55-Year Plan)

We have a long term plan we call the 55-year plan. In the Internet industry, companies that succeed are companies that can attract customers. Having our own media that attracts customers gives us an advantage over our competitors in virtually any market we enter.
Internet Finance
Market leading strategy a mark of group DNA.
The Internet Finance segment complements our existing Web Infrastructure & Ecommerce and Internet Media businesses and helps to further generate synergy throughout the group. We aim to build a group that will succeed for hundreds of years and this is part of the reason why we brought this business into the group.
Providing new technologies, added value, and innovative concepts through solutions that are universally user-friendly is core to the group's fundamental mission.
By providing an easy to use online securities trading service to all of our customers, we are driving growth in the industry as a market leader in FX.
Cryptoassets(Cryptocurrency)Business
GMO Internet Group has been comprehensively developing Internet businesses, focusing on the Internet infrastructure business. The Internet has eliminated the boundary related to information and changed the way the world is. Cryptoassets(cryptocurrency), which enable to remit and trade the value on the internet unlike the legal currency, also has the possibility to change the world as a result of going beyond the boundary related to money including currency, financial services, and payment.
GMO Aozora Net Bank launch
We have been considering a joint Internet bank operation with Aozora Bank since June 29, 2015.
GMO Aozora Net Bank launched a next-generation Internet banking service on July 17, 2018.
Under the corporate philosophy of "Customer first at any time to become the number-one technology bank," by utilizing the cutting-edge technology of GMO Internet Group and with the risk management expertise of Aozora Bank Group, the company aims to realize unique and smart next-generation services at a low price.
Global Strategy
Becoming a global Internet company.
Internet Infrastructure segment and Internet Finance segment, which are No. 1 within Japan, are expanding mainly to Asia. We will step up global expansion in both the Infrastructure and Finance segments, and unify global marketing efforts under the Z.com brand.
GMO Internet Group is providing revolutionary global No.1 Internet Infrastructure and Internet Finance services under the world's most memorable domain with the Z.com brand further driving global sales ratio and making direct sales.
For more details, please see my official website (www.kumagai.com).