Dividends
Here you see the payout policy, record date, and dividend per share of GMO Internet Group, Inc.
Although the Company aims to pay dividends quarterly with the aim of paying a payout ratio of 33% to net income attributable to the owners of the parent, Because it is difficult to do, the anticipated dividend forecast at this time is undecided. We will promptly disclose dividend forecast when it becomes possible to disclose.
Dates of record are as follows
March 31, June 30, September 30, December 31
Please note that shares must be purchased at least four days prior to the above dates in order to be listed on the shareholders register on the date of record.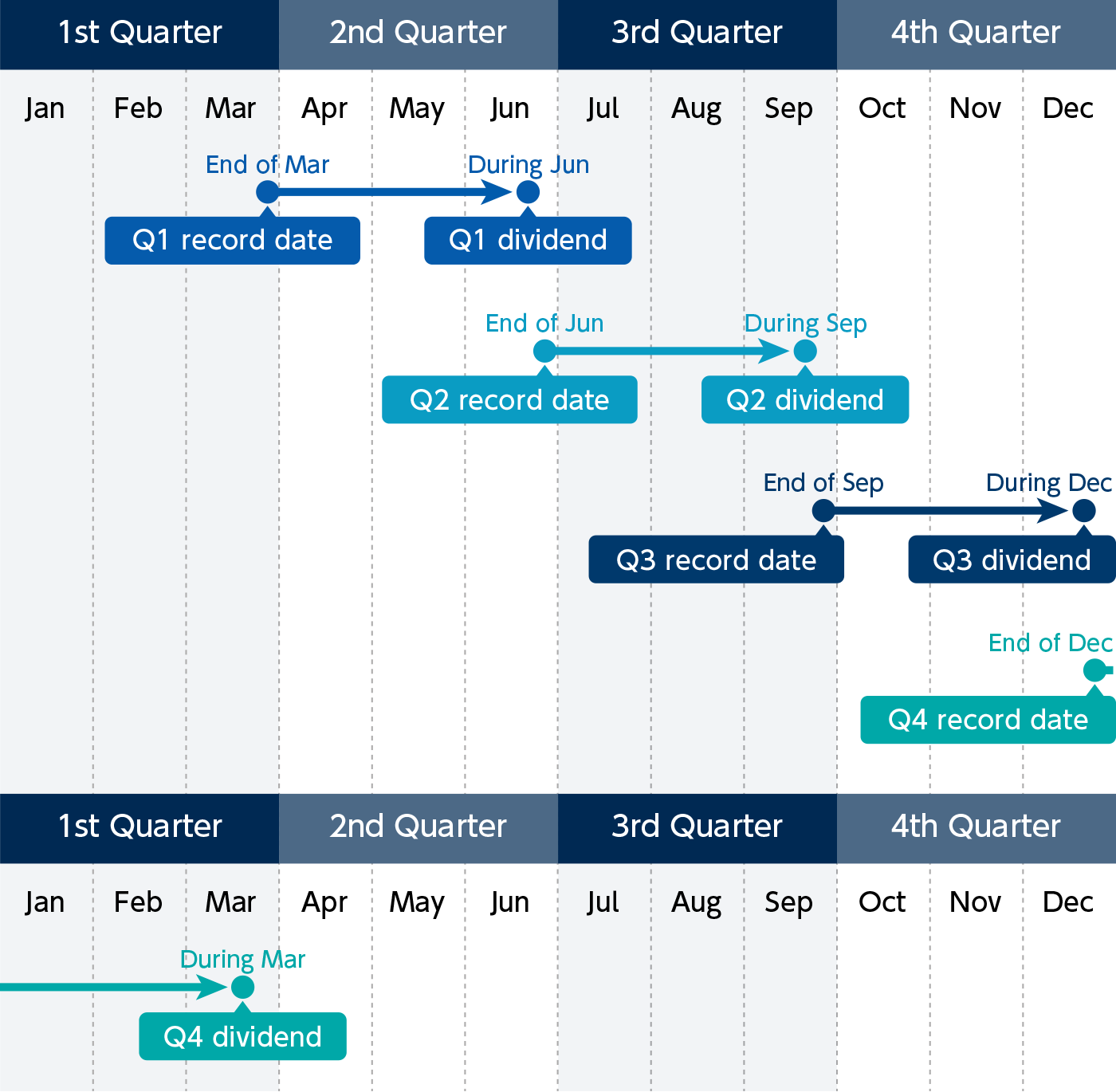 Dividend per Share Data
Consolidated Results Forecast for the Year Ending December 31, 2018 (01.01.2018 - 12.31.2018) As the Group's business "Internet Finance business" and "Cryptoassets business" are affected by economic conditions, financial markets, cryptocurrency and other market conditions, it is difficult to forecast business performance, and therefore we do not disclose consolidated business results and dividend forecast.
| | 1Q | 2Q | 3Q | 4Q | Total | Ratio |
| --- | --- | --- | --- | --- | --- | --- |
| FYE 12/2015 | JPY 6.00 | JPY 5.00 | JPY 7.00 | JPY 20.00 | JPY 38.00 | 33.4% |
| FYE 12/2016 | JPY 5.00 | JPY 5.00 | JPY 5.00 | JPY 6.00 | JPY 21.00 | 33.7% |
| FYE 12/2017 | JPY 5.00 | JPY 6.00 | JPY 6.00 | JPY 6.00 | JPY 23.00 | 33.1% |
| FYE 12/2018 | JPY 6.00 | JPY 6.20 | JPY 5.50 | JPY 11.80 | JPY 29.50 | 33.1% |
| FYE 12/2019 | JPY 6.00 | JPY 6.00 | JPY 7.20 | JPY 5.00 | JPY 24.20 | 33.1% |
| FYE 12/2020 | JPY 6.60 | JPY 6.20 | JPY 7.40 | JPY 10.60 | JPY 30.80 | 33.1% |
| FYE 12/2021 | JPY 17.10 | JPY 12.20 | JPY 10.80 | JPY 12.60 | JPY 52.70 | 33.0% |
| FYE 12/2022 | JPY 19.60 | JPY 28.00 | JPY 0.00 | JPY 0.00 | JPY 47.60 | 38.6% |
| FYE 12/2023 | JPY 12.20 | JPY 7.50 | JPY 10.20 | | | |
As of 9/2023